Something Does Not Add Up in Lebanon
.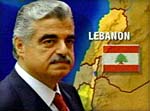 Today, the ex-premier of Lebanon, Rafiq Hariri, was murdered along with six of his bodyguards while driving down Beirut's waterfront. Many news outlets were quick to point out that before his death, Hariri was becoming increasingly vocal about Syria's role in Lebanon. The statement coming out of the White House today all but directly accused Syria for Hariri's murder. The conservative media and the hawks in Washington will likely seize on this opportunity to turn up the drum beat on Syria. President Bush had already stepped up his rhetoric against Syria recently and was able to join hands with the French last year and win a UN resolution condemning Syrian presence and interference in Lebanon. But something does not add up.

It is true that Rafiq Hariri resigned his post as PM because he refused to support the Syrian-backed president, Emile Lahoud, and that he also started to question Syria's meddling in Lebanese internal affairs. It is also true that Rafiq Hariri is well-liked in Western diplomatic circles. He is a very close friend of French President Jacques Chirac, and has many influential friends in the U.S. He was also a very successful businessman estimated to be worth around $4 Billion. So, at first glance, it would seem that Syria is the most logical suspect in his murder. But something does not add up.

The Syrian government is not that stupid. No one in their right mind in Damascus would order such a high-stakes assassination knowing that the US had just stepped up its criticism of Syria's support for terrorism and interference in internal Lebanese politics. No one in their right mind in Damascus would do this only a few months after the UN voted to condemn 'the presence of foreign troops' on Lebanese soil and the passage of the Syrian Accountability Act in the US Congress. Rafiq Hariri had after all resigned his post as PM. Why would the Syrians take such an unbelievable risk at the worst possible time? Something simply does not add up.

See Also: